Order the game on our site
You can buy the game on our
store page
.
| | |
| --- | --- |
| | The PDF of the rule book is available for download if you want to study the rules to know if the game is made for you before buying it. |
| | 中文说明书已上线,您可以免费下载。 |
The Kickstarter Campaign
Dinodocus went through a successful Kickstarter Campaign during June and July 2021. We will thank here all the backers for their support (in alphabetic order).
A. Connor, Adam Lancaster, Adam Rapp, Aff Roman, Aja Lee Juola, AKIRA KONDO, Alessandro Sciacqua, Alessio Malfatti, Alex Duff, Alexander Irrgang, Alkaiser, Allen Crimmins, Amanda Pecka, Anacondas1, André Rochefort (roclec), Andreas, Andrew, Andrew Crerand, Angie Welter, Anij Fallows, Armazo, Arne Furst, Asher Gage Baccus, Auto the Dragon, B.P. Beck, Bearded Board Games, Becka Ross & Mike Hudson, Bérénice Benayoun, Björn-Simon Jahn, Blaine Long, Blake Hansen, Boardgame4fun Paffins, Boris Sch., Brandon beeman, Brandon Dakroub, Brian Kumanchik, Brian Weisberg, Brin Young, Bryan Stout, Bryce Ann Journey, Callen Fox, Caspian Goetz, Cath Paluc, Chance J, Chapmage, Cheryl Howard, Chez Pierre, Chris, Chris McDermott, Chris Wallen, Christina Mortensen, Cmoslinker, CTyphoon, Dan Lewis, Dan Roberts, Dandres, Daniel Claridge, Daniel Helmer, Danya Ariel-Boggs, David Gopsill, David La Galia, David Stoy, Dennis van Westen, DieFolkers, Dinoboy, Dude Serious, Dustyn Panson, Eleanorasaurus, Eliot Hochberg, Elizabeth Truex, Emmanoyhl, Eric Climer, Erin Marie, Eva, Evaristo Badiali, FalconChief (Jim Terry), Fancho, FatGandalf, Fierce Tiger, Flemming Madsen, floppi, Florent BERNICOT, Garandian, George Stankow, Ghilean, Gracie Wright, Graham Weaver, Guggd2868, Gypsy Jackson, Heather Garvey, Heenz, Henderikus de Jong, Hippoeater, Hope Robertson, Hype Toriyama, Ipposauro Ademagni, Itamar Tsruya, Jacob Wuttke, jakubosaur, Jam2x, Jameson Gagnepain, Jamie Fambrough, Jared Cox, JASON LYONNAIS, Jason Mcloughlin, Jason Windsor, Javisklax, Jeff "Toy" Heemstra, Jenny Mathys, Jeremiah Wolfe, Jeremy Barnes, Jérôme, JH Berg, Joe Kiyoshi, Jonajuwon, Jonas Buijs, Jonathan caswell, Jonathan M. Thompson, Jonathon K Butler, Juanpamb, Justin Gilbert, K. David Ladage, Kara Hirsch, Karl Markovich, Karli McGinn, Katy Balagopal, Kevin Kremer, Kim Brandes, Koky and family, Kristen Mott, Kristin A. Smith, Kurt & Erin Heinemann, Lee Werrin, Leprince David, Lewys Eva, Liam Careless, Liam Critchley, Lizardo, Lobster and Porgy Porg, Lucas Brisingamen, Lucas Henckel, Lucas M., Lukeyy19, Maltuin, Manuel, Marc-Olivier Ménard, Markus Weihrauch, Martín Chávez, Martin Peter, Martyn Stroud, Matthew David, Max Rattler, Melissa Schwartzkopf, merlin clark, Michael F Zabkar, Mike Brousseau, Monica Elida Forssell, mr_krolik, N.Cooksey, Natalie Zimmer, Nathan and Liam Torok, Nick egberts, nicolas gil garcia, Nicolas Savier, Nils Schacht, Noah DeSantis, OrsoRock84, Oscar Rosas, PadawanVerl, Pascal Bouvier, Pat & Chrissy "Panda & Tiger" Grogan, Pat Sheridan, Patakiche, Patric A., Paul Lenkic, Pedro Soares, Phillip, Rafael Escalante, Ralfino59, Raymond Hoogeveen, Rhiannon McKinstry, MKE Games, Robert, Robert Aehnelt, Robert Murray, Ronald Gravendeel, Rouven Keil, Ruben Almaraz, SAMURAIGUY, Sebastian Manet, Sebastian Nassetta, Seth Allison, Seth Tepfer, Share Faerber, Shawn Clouthier, Shawn McCoy, Simon 'garkham' Landureau, Simon Besset, SPLINKET PYRO, Ste & Jay, Stefan Bauer, Stephanie Grant, Stephanie Wenderdel, Stephen Goettler, Steve BullsEyeTF Fortier, Steven Crane, Steven Kyle Hawkins, Strath Arnold, swaggers, Takashi, Akihiko, Tarek Zierhut, TeemClover, Terry & Bertha Dano, Teun Ham, The Alexander Family, The Bell Family, The Brockmeier's, The Howland family, Thierry, Timothy Woodhams, Tom and Sonia Davis, Tom Stankevich, Tomasha, Tony McConnochie, Torston, Traci and Mark Maltais, Vivi, von Klinkerhoffen, VonDets, Vosper Mortimers, WereDINO, Wes Robinson, Wrightboy, Zack Fissel, Zak, Zakary Sawyer, Zoey Clifton.
About the Game
Dinodocus is a card game for 2 to 6 players that plays in 45 minutes (no matter the number of players). Players will assemble unique dinosaurs, trying to make them survive as long as possible.
In Dinodocus, players will create and modify dinosaurs using cards depicting dinosaur body parts similar to an identikit. Apart from these body parts, the cards also carry dinosaur name syllables and attack and defense values. The syllables give each of your dino-creations unique names, whereas the attack and defense value give your dinosaurs strength.
Your game turn is simple and fast, first you draw dinosaur body part cards, then you create new dinosaurs and/or modify any dinosaur on the table, and then you feed your dinosaurs. Herbivores will share a limited pool of vegetation tokens, while carnivores will hunt other dinosaurs. Your dinosaurs that couldn't find a food source will go extinct. The longer can survive your dinosaur species, and the more victory points you will get.
During the game you will need to negotiate, retaliate, plead and bluff to convince the current player to mutate other players' dinosaurs, not yours!
How to play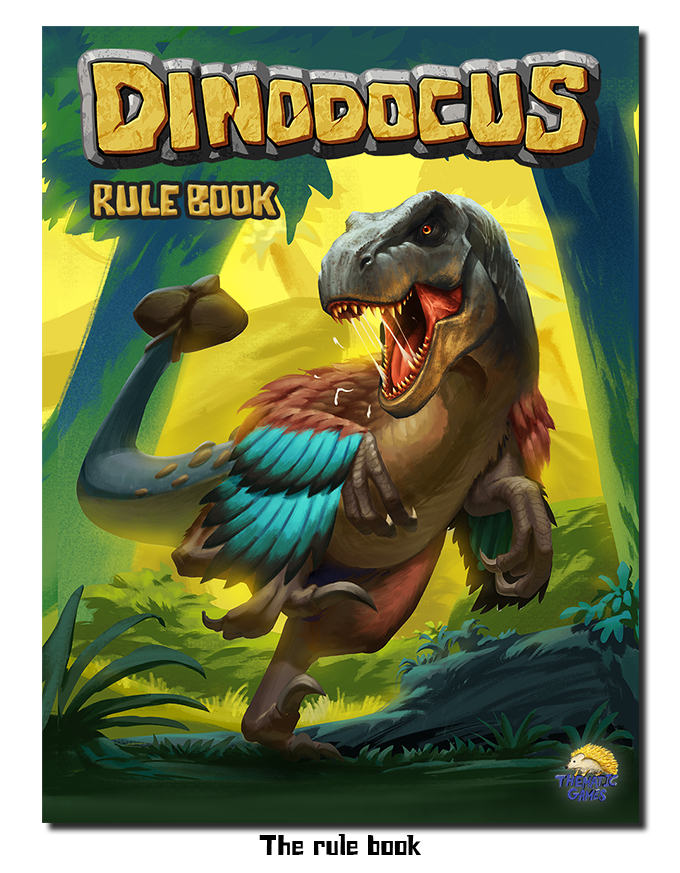 What's in the box

Go to our store page to buy the game.